Glorifikation NMN Trans-Resveratrol Antioxidant Supplements 1100mg 99% Ultra High Purity Resveratrol Nicotinamide Mononucleotide for Boost NDA+, Anti-Aging, Immunity Support & Heart Health (2 Pack)

【Glorifikation NMN Resveratrol Supplement 】It is one maximum strength formula with Trans-Resveratrol 600mg, NMN( β Nicotinamide Mononucleotide)500mg and Black Pepper Extract 50mg, in one serving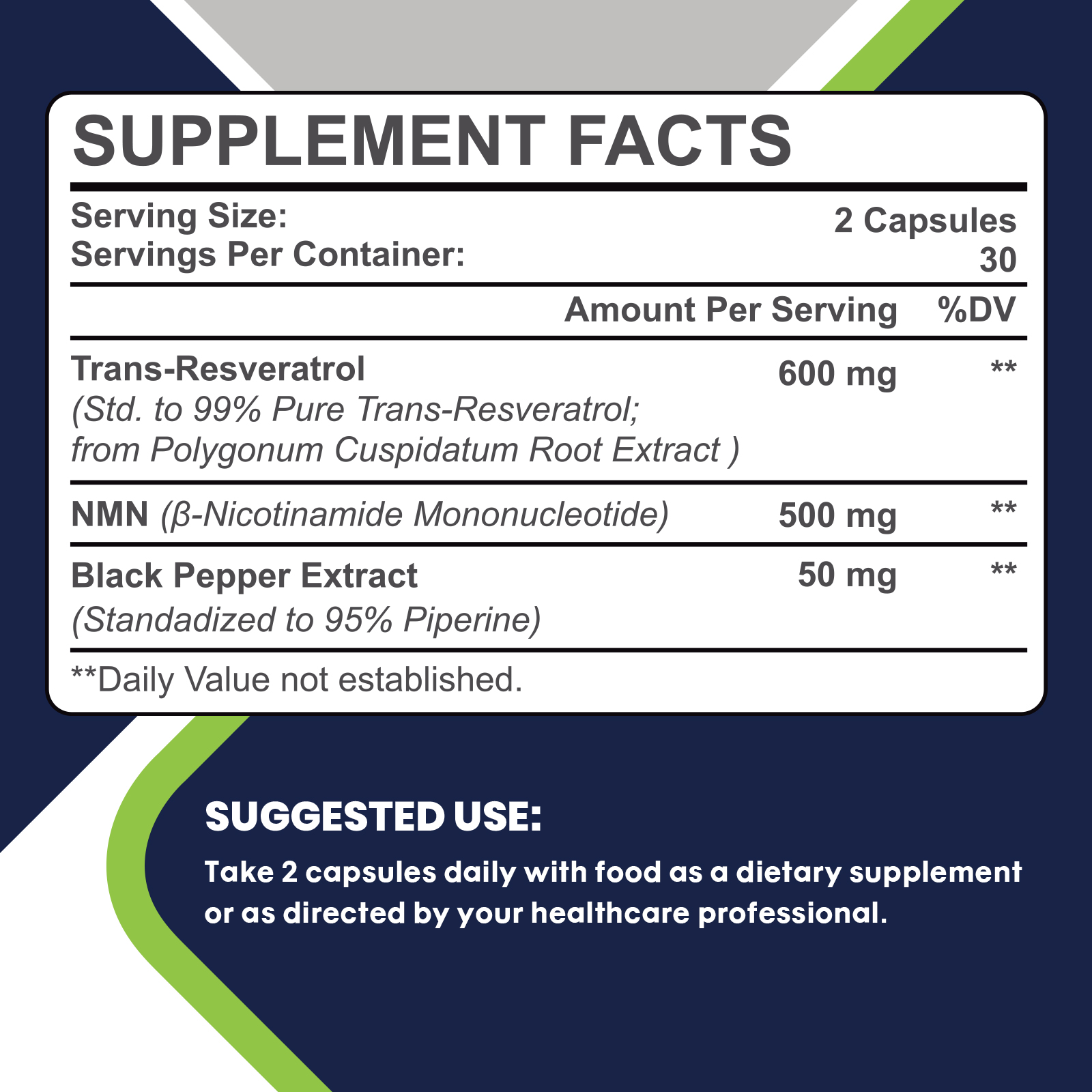 size (2 capsules). Add this amazing supplement to your diet on a daily basis contribute to maintaining youthful body functions, metabolism support and energy healthy.

【99% High Purity Ingredients 】Sourced from Polygonum cuspidatum root extract, active trans-resveratrol rich in with a purity of more than 99%. Adopt the Enzyme Directed Evolution technology extract the most authentic & stabilized NMN. Organic Glorifikation NMN resveratrol nutritional supplements can give you the maximum effect for overall Health.

【3-In-1 for Maximum Antioxidant Results】NMN can help boosting NAD+ levels to slow the aging process, repair DNA and generate cell energy. Trans-Resveratrol acts on enzymes called Sirtuins and activates SIRT1, which is involved in the aging process. Combined with Black Pepper extract can greatly increase bioavailability and absorption rate to keeps you naturally young!

【AMAZING BENEFITS 】Promote cellular health & repair, boosting NAD+ levels ; Powerful antioxidant support(Anti-Aging); Help reduce Inflammation; Supports cardiovascular health by promoting circulation; Immune function support!; Improve sleep quality!

【A trusted Product 】 100% natural, vegan, No GMO, No Caffeine, gluten, or any other harmful chemical additives. Passed 3rd Party Lab Tests. 100% MONEY BACK SATISFACTION GUARANTEE, contact us for a No Hassle Return or Replacement at any time if you are not pleased.